Tile Flooring in Medina, OH
For a timeless, classic look that elevates your home's style, nothing beats tile flooring. Here at MDG Flooring America, we carry a wide selection of durable and beautiful tile that is always on trend. The beauty of tile is only matched by its utility, perfect for kitchens and bathrooms thanks to its unparalleled ability to resist water and stains. When it comes to tile floor options, no one has a wider selection at a better price in the area than we do. So visit our showroom in Medina, OH. We are here to make your next flooring project affordable and easy with our wide selection of the best products and materials in the industry. We have it all, from porcelain, to ceramic, to stone tiles, suitable for any style.
Tile is made in multiple materials, each one suitable to fulfill different needs. Our flooring showroom carries a huge selection of every type of tile you need. Depending on your lifestyle, aesthetic preference, and budget, we help you choose the best floor tiles for your specific needs. We even offer expert tile flooring installation to ensure your investment is protected and will look great for years to come.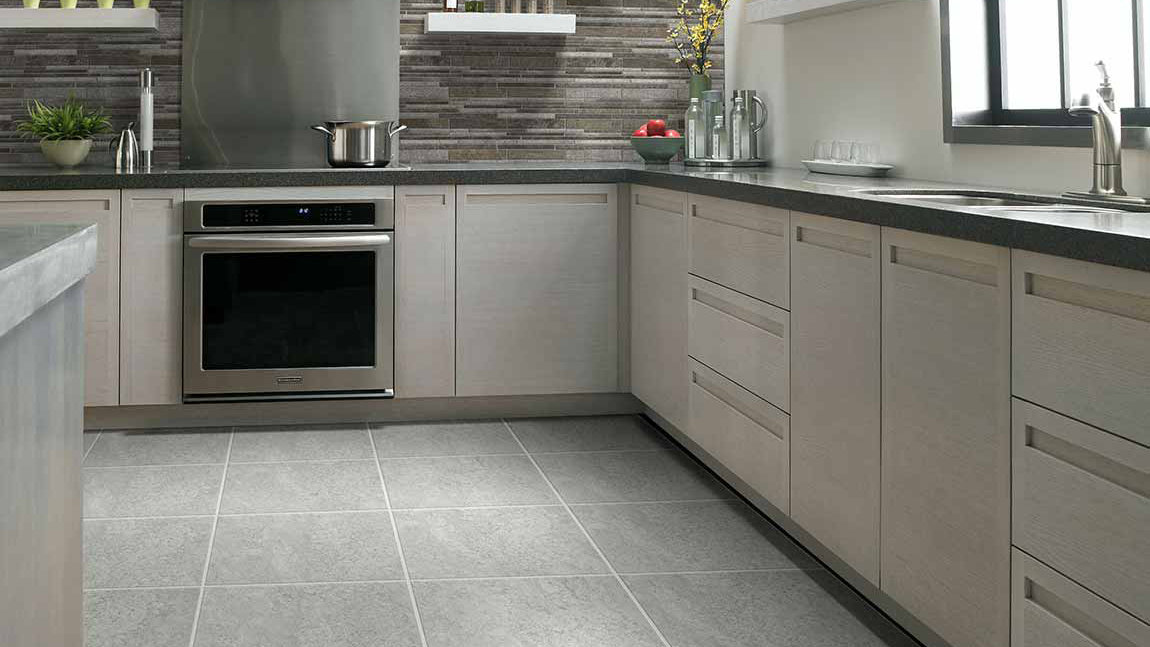 A Variety of Tile Options
Come see our wide selection of tiles. Our tile options are resistant to scratches, fading, stains, heat, and water. Tile is the best flooring choice for those looking to fully customize the appearance of their floor, backsplash, or patio. Choose between dark and light variations, differing grain styles, or a marble or wood appearance. Tile is very adaptable and can be used as an outdoor walkway, a backsplash on a wall, or an interior floor plan. Learn more about the different tile types we offer:
Ceramic
Ceramic is an ideal flooring material if you are looking for a low-maintenance floor. These tiles are crafted from a combination of natural clay, water, and minerals that is hardened by oven fire and coated with a protective glaze that makes for an extremely durable end product. Due to their hardiness, ceramic tiles are an excellent choice for areas of the home that have a large amount of foot traffic. While most ceramic tiles offer a glossy and glazed finish, non-glazed tile flooring contains a pattern that prevents slippage underfoot.
Porcelain
Stylish and durable porcelain tile is hard-wearing and can hold its appearance with little maintenance. These tiles are strong and are resistant to stains, scratching, and cracking, making them a great choice for areas of high traffic. Our porcelain tiles are made from fine, dense clay and are fired at high temperatures to ensure their sturdiness. This type of tile can be used both indoors and outdoors.
Stone
If you're looking to add a more rustic or natural look to your home, check out our collection of stone tiles. Our stone tiles are made from raw materials, including travertine, marble, granite, and slate. Stone is typically more durable than ceramic tile due to its natural strength, and it can add a luxurious touch to any design.
Durable Wood-Look Tile
Wood-look tile boasts the look and feel of natural hardwood. It offers strength and flexibility and can be used anywhere in your home. The manufacturing process to create wood-look tile flooring allows this type of tile to mimic the appearance and texture of many hardwood species, such as pine and oak. Wood-look tile captures the rich hues and grains that are found in genuine hardwood. Due to wood-look tiles' dense structure, this material is sturdy and non-shifting. It stands up well against foot traffic, making it a great addition to any room in your home. Tile floors will not shrink, expand, or warp when exposed to moisture like some genuine hardwood might. It's tough and works especially well in kitchens, bathrooms, and basements.
Maintaining Your Tile Floor
Active households will be amazed at how easily tile can be maintained and cleaned. Tile floors repel allergens, pollen, and dander, providing seasonal relief. Regular clean-up can be done with a weekly wet mop and regular sweeping or vacuuming. For a heavy-duty clean, strong solution all-purpose cleaners can be used on glazed tiles, while unglazed tiles can be treated with paste, water, and scouring powder. We recommend checking out your tile's warranty before using any cleaners with harsh chemicals.
Expert Tile Installation
The quality of your new flooring installation is as important as the quality of the product you purchase. Our skilled installers have dealt with tile installations of every size and shape. They have the industry equipment necessary to do the job effectively and will provide the best results. A tile flooring installation by our team is affordable, fast, and reliable, ensuring that your tile flooring lasts for years to come. Our installation services are backed by an Ultimate Confidence Guarantee in case of any accidents or concerns.



Contact us to learn more about our tile flooring options. We proudly serve Medina, Brunswick, Strongsville, Hinckley, and North Royalton, OH, and the surrounding areas.