Upgrade with Wood Look Tile in Medina, OH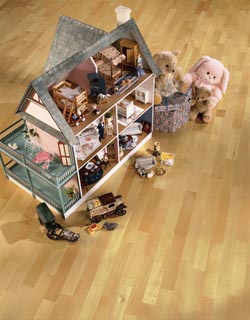 When you are looking to upgrade your kitchen or bathroom, new flooring is an effective renovation. However, it is crucial to choose the right kind of flooring. While hardwood is one of the most popular surfaces among homeowners, it doesn't do well in areas that are exposed to moisture. Fortunately, there is a wood alternative that offers the same beauty and value: tile.
MDG Flooring America is pleased to offer one of the largest selections of wood look tile in Medina, OH. This flooring style melds the water resistance of porcelain and ceramic with the natural beauty of hardwood. Since tile doesn't absorb moisture and swell like wood does, it is perfect for all the wet areas around your home, including:
Kitchens
Bathrooms
Basements
Laundry Rooms
Entryways
Patios
Great Benefits for Any Homeowner
One of tile's greatest strengths is its limitless design potential. Thanks to modern manufacturing technology, tile can be made in a diverse array of styles—including those that mimic wood down to the finest details. Whether you prefer oak, hickory, mahogany, or another hardwood species entirely, there is a wood plank porcelain tile or ceramic tile product for you.
Another key advantage for homeowners is how easy tile is to clean. Routine sweeping and mopping are enough to keep your tile floor ready for guests. With some additional upkeep like occasional grout cleaning, tile flooring can even look like new generations after installation.
Many shoppers don't realize that porcelain and ceramic wood tile also offers heating and cooling benefits. Tile stays cooler in hot weather than other flooring materials, increasing your indoor comfort during the height of summer. With a wood plank ceramic tile or porcelain tile floor, you also have the option of installing radiant heating underneath. This heating will ensure a foot-friendly temperature even on the coldest mornings. Learn more about the benefits of tile by talking to our team members today.
Leave Installation to the Experts
You want your new flooring to look great in your home. To ensure both great looks and absolute structural integrity, you need professional installation. Our installers are trained to work with every ceramic and porcelain wood tile product we sell. They pay careful attention to detail and follow every product warranty standard to the letter. Furthermore, they get the job done quickly so your room will be ready to show off in no time at all.

Contact us for further information on our wood alternative surfaces and our installation services. We proudly serve clients from throughout Medina, Brunswick, Strongsville, Hinckley, and North Royalton, Ohio, as well as the surrounding communities.