Laminate Flooring in Medina, OH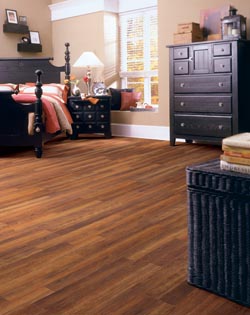 Take advantage of a unique opportunity to upgrade the look and functionality of your home by choosing from our selection of laminate flooring. Our flooring showroom is filled with stylish and durable laminates that save you time and money. As the flooring in your kitchen and bathrooms starts to fade and crack, the value of your home can begin to suffer. Restore the look and feel of your home without spending a fortune with the purchase of a new laminate floor from our store.
The laminate image or "photograph" layer is what makes this flooring so flexible. This layer can be printed to any color or shade, and some homeowners use it to mimic other flooring materials. This enables you to combine the style of hardwood, ceramic, or porcelain tile, or even natural stone with the durability and easy maintenance of laminate flooring.
With the latest advancements in imaging and the manufacturing process, the laminate floors we offer look natural and last for years to come. If you have a busy family filled with kids and pets, this durable variety flooring is the right answer. Instead of spending time working on your existing floors just to keep them looking clean, have our laminate flooring installed and get more time for the things you enjoy. These resilient floors are easy to clean and known for their long-lasting strength and appearance.
Maximize the impact of every home improvement dollar you spend by partnering with our store for laminate flooring installation. Having the right tools and years of experience can make a big difference in the success of your new renovation project. Instead of wasting time and money you could be dedicating to other aspects of your home, hire a team that can provide you with the best fit possible for your particular home.
Budget-Friendly Laminate Floors
Start a conversation with one of our experienced design specialists and find out if a laminate floor is the right option for your home. After a review of your design plan, laminate flooring may make the most sense and provide you with the level of value you are looking for. Modern imaging and manufacturing makes getting the look of natural hardwood and tile a possibility for many growing families with limited budgets.
Instead of wasting most of your allotted budget on one room, cover more floor than you ever thought possible by making an investment in laminate. This advanced flooring option opens up a world of design options when you consider its durability and resistance to moisture. When you are in the market for the warmth and character of hardwood in a room like your kitchen or basement, this variety of flooring can give you exactly what you are looking for.
Get the quality you want and the value you need by choosing from our selection of brand name laminate flooring. Make any room in your home a destination without having to spend a fortune by making this flooring option a part of your new home restoration. Find the right color and texture for any room you are renovating without having to drive all over town looking for a price that fits your budget. We offer products from the major manufactures you know and love, including:
Mannington™
HomeCraft™
FloorCraft™
Mohawk™
Pergo™
Shaw™
Armstrong™
Professional Laminate Flooring Installation
When you choose to have a floor made from laminate installed in your home, it is critical that you have the right tools and a level of experience with this process. That is why the smart move for any homeowner involves hiring our team for laminate flooring installation. Each home is different, and every room presents a new set of challenges for any contractor. When you choose our group for laminate installation, you save time and money. With new laminate flooring in your home, you can finally start inviting over family and friends for cookouts and dinner parties.
Instead of wasting materials and most of your weekend with this renovation process, make the most of this opportunity by hiring the right team. We treat your home with the same level of respect you do, and we complete any project according to the timetable we set out. The innovative manufacturing process for this type of flooring makes it easier to install, so you are assured of complete satisfaction with every purchase. The tongue-and-groove system increases speed and accuracy when it comes to installation, and that makes a big difference.
Start your renovation process with a free room measurement, so you are assured of the best fit without needless waste. Take advantage of our various warranties and guarantees by reviewing our 5-Star Selection System. Many of our star-rated flooring products are backed by our Ultimate Confidence Guarantee and our installation guarantee as well.
Contact us today and take advantage of our free room measuring with any purchase of laminate flooring. We proudly serve customers in Medina, Brunswick, Strongsville, Hinckley, and North Royalton, Ohio, and surrounding communities.