Luxury Vinyl Flooring in Medina, OH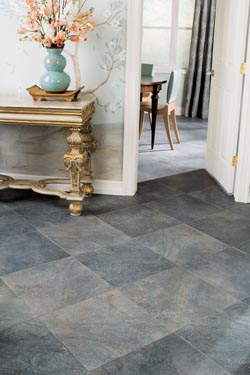 Identify the versatile flooring solutions you need to complete your next residential or commercial renovation at our expansive flooring store. We do everything we can to provide our customers with floors that make their interior more functional and appealing. Home and business owners alike are now choosing to decorate with luxury vinyl flooring in Medina, OH.
Every room presents a unique set of challenges to the decorator. When a client needs the charm of hardwood flooring in a room with a greater chance of flooding, they turn to the specialists at MDG Flooring America. While solid wood flooring planks can expand and contract in environments with higher moisture, luxury vinyl provides them with greater stability and increased comfort after hours of standing water.
Through an innovative manufacturing process, vinyl planks are covered with a photo layer that looks as authentic as wood, stone, or tile. You get a flooring product that can be installed over an existing subfloor that features increased resistance to scratches and spills. When you take advantage of our 5-Star Selection system, you can identify the flooring product that includes the guarantees and warranties you need for your exact application needs.


Is Luxury Vinyl Tile That Fits
Start a conversation with our design specialist, and find the flooring you need for every room in your home or business. We want you to be happy with your choice of flooring, so you make us your partner for any project going forward. You deserve resilient flooring that is easy to maintain for years to come.
Finish your bathroom remodel with flooring that is sure to improve the resale value of your home. Match the existing wood flooring in other rooms when you decorate with luxury vinyl plank flooring. While natural hardwood is a great choice for your bedroom and the study, luxury vinyl performs better in areas with higher levels of moisture and activity. The product is cut into planks to give the room a more authentic appearance letting the character of wood and the endurance of vinyl are to be available in one flooring option.


Efficient Flooring Installation
Our contractors have a plan for luxury vinyl tile installation. When you purchase new floors for any interior, you need an assurance that the product will look great for decades. You deserve flooring that makes every room more enjoyable. With luxury vinyl, you get the best of both worlds and a home that fits your way of life.



Contact us today for luxury vinyl flooring that can transform any home into a destination. We proudly serve customers in Medina, Brunswick, Strongsville, Hinckley, and North Royalton, Ohio, and surrounding communities.