Flooring in Medina, OH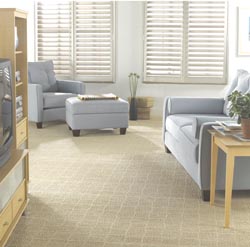 Make any home or business more valuable and appealing when you install new floors from MDG Flooring America. When you walk through the doors of our local showroom, you will immediately notice our expansive selection of flooring in Medina, OH.
Talk to our team of design specialists about your picture perfect home. Your designer will ask you the critical questions about your space and the accompanying décor. When you make our showroom the first step in your design journey, you can create an interior that sets the standard among your neighbors and friends.
We carry just about every type of floor covering on the market today, but each is suitable for a different set of environmental conditions. Your favorite wood planks and carpeting can make your dining room come to life, but it may not be the best type of floor to have in a finished basement. Our design team can help you find the right floor for the right space, and you are sure to get a great price with our 5 Star Selection system. Get the installation warranties and price protection guarantees you deserve by shopping with us.
A Flooring Store That Does It All
Fill out the plan for your home with products from the flooring brands you know and love. We understand this community, and our experience in local homes makes a difference. When you are decorating a new space, your choice of floor covering can take your plan to the next level. Find a broad array of floors for every room, including:
With the decorating guidance we offer, and the added savings you realize through our 5 Star Selection system, the process of home improvement has never been easier. Each product is rated on the corresponding guarantees and warranties that it carries.
We want you to love the home flooring you have purchased, so we offer a price protection guarantee on most of our products. If you find a lower price on the same brand and style of product within 30 days after your purchase, we'll happily refund the difference.
Professional Flooring Installation Makes Sense
Complete your next project ahead of schedule when you hire a team that arrives with the right tools for installation. Every product carries an installation warranty to help you make your choice. Different varieties of hardwood expand and contract at varying rates, so having a trained specialist makes sense. When you hire a group that understands these challenges, you are sure to get the right type of floor and the right fit for your money.
Contact us today to find flooring with the right color and texture for your design plan. We proudly serve customers in Medina, Brunswick, Strongsville, Hinckley, and North Royalton, Ohio, and surrounding communities.