Design Trends and Inspiration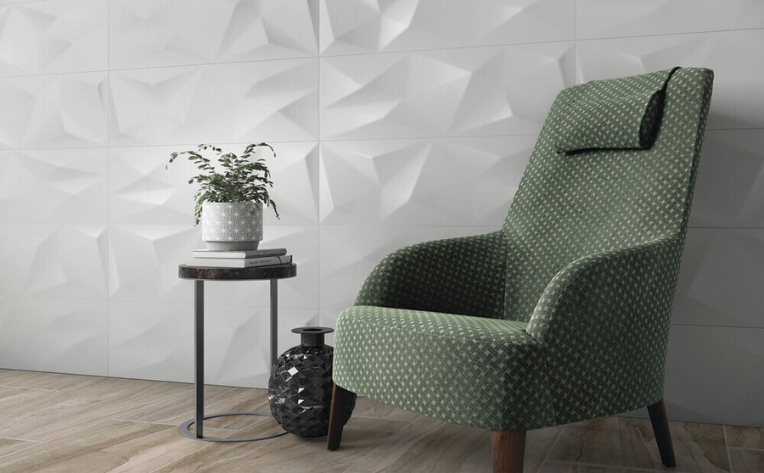 Sep 29, 2022
Your forever home doesn't need to look the same forever. Here are five signs that it's time to renovate your home.
1. It is showing significant signs of wear and tear
No matter how recently your house was built –or not so recently –you may have picked up on a few pain points throughout the years. Whether you've noticed the crown molding detaching, tiles coming loose, the paint fading, or any kind of water damage, these are all hints to begin the repair and renovation process. And remember, don't put off your renovations. Not only can severe wear and tear pose a threat to the integrity of your home, but delaying the process will only make the timeline longer and may cause the price of renovations to jump.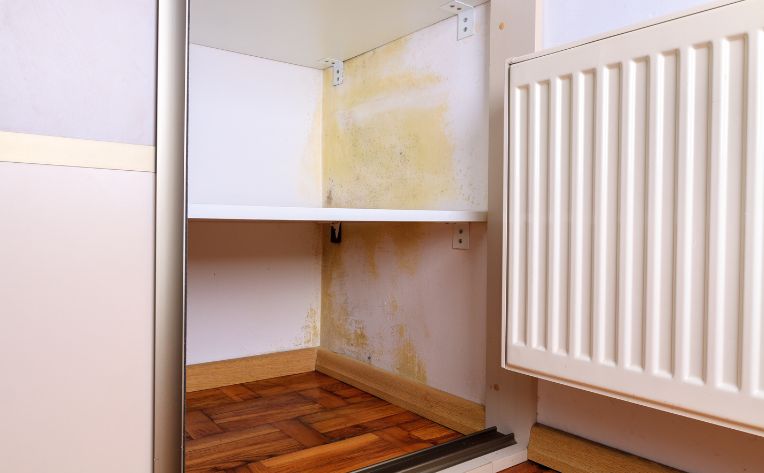 2. Because you feel like it
Hey, there is nothing wrong with needing a little shake-up in your life! As you evolve, so will your taste, so it is only natural that your preferences for your home's aesthetic would as well. Not only can your own taste change, but the prevailing style trends nowadays may also differ vastly from what was trending when you first remodeled your home. That being said, renovating your home is not something you do just on a whim. Make sure to plan it thoroughly to ensure that this renovation is truly what you want and is cost-efficient. If you are unsure where to start looking for inspiration for your future home, we have a section on our blog dedicated to the latest design trends and inspiration.
3. You have the budget and time to do so
We won't sit here and try to act like a renovation is not a big undertaking because it most certainly is. But it is a worthwhile investment, both financially and emotionally. Before the renovations officially kick off, make sure you have a clear-cut timeline, a defined budget, and, if needed, a place to stay if your home is uninhabitable during the renovations. Of course, things are bound to happen, and even the best-laid plans may go awry, but as long as you stay on target, your hard work will pay off, and you'll end up with a home you love and one that reflects you.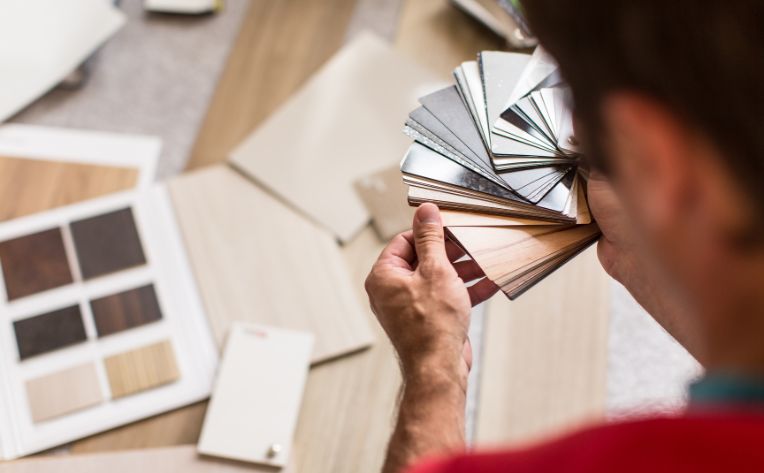 4. The way you use the space has changed
Over the years you spend in your home, a lot can change. For example, you may be interested in converting your spare room to a playroom for your new little ones, or maybe you're eyeing the attic for an office space so you can work remotely. Renovating can be a game changer in making sure your home can evolve with your needs.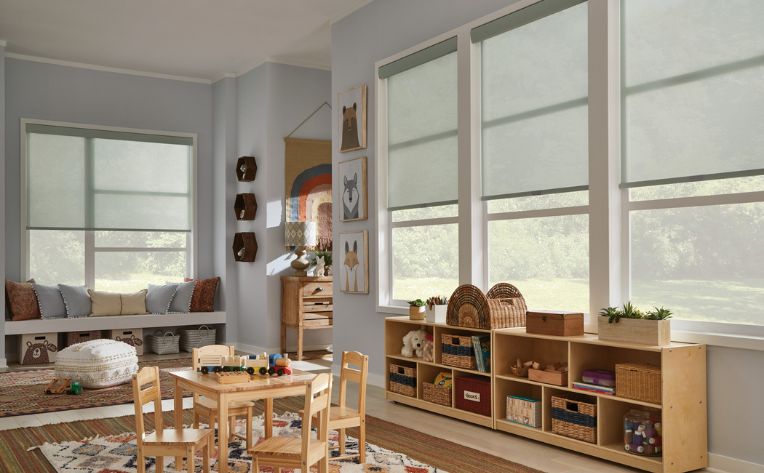 5. To keep or increase the value
You value your home, so make sure it is valued by everyone else. Keeping your home up to date is key to maintaining or increasing your home's value. For example, having durable floors can make a dramatic difference. Hardwood is a great flooring option for this very reason, as it is seen as long-lasting, versatile, and easy to clean, but that is not to say there aren't other excellent flooring options available. Installing brand new carpet or luxury vinyl can also dramatically increase your home value.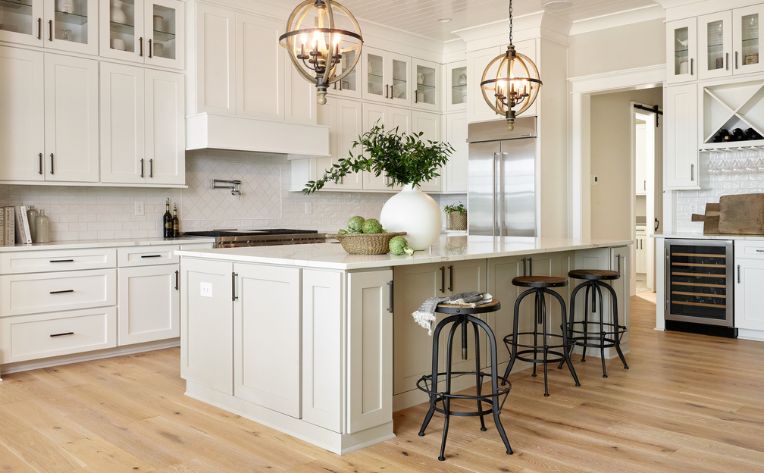 Find your local Flooring America to get connected with a qualified expert for more information about your next home remodeling project and to discuss increasing your home's value with quality floors.
Continue Reading
Sep 19, 2022
Your home is your sanctuary, which means that it should be comfortable to a luxurious degree. When it's time to lay back and relax at the end of a busy day, having a cozy space to do so can make all the difference. To lend your home design luxurious comfort, fill your space with comfortable throws and pillows and layer through various textures and materials. Round out your cozy decor with the perfect flooring. We've collected some of our favorite flooring products so you can fast-track your way to transforming your home into a source of endless comfort.
1. Cozy Carpet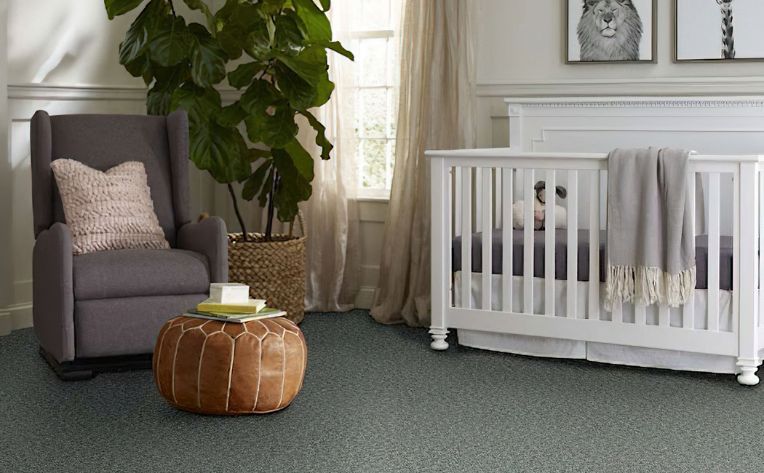 Rival & Delightful by Rival by Resista in Succulent
Nostalgia for past comforts is alive and well, with trends like cozy cottage core, wallpapered walls, and vintage furniture taking center stage. Seek the comfort of a soft carpet underfoot with Rival by Resista's Rival & Delightful carpet in the color Succulent. This gorgeous sage green hue is not only on trend but the advanced fibers of this carpet deliver plush softness for maximum comfort.
2. Dark-Toned Hardwood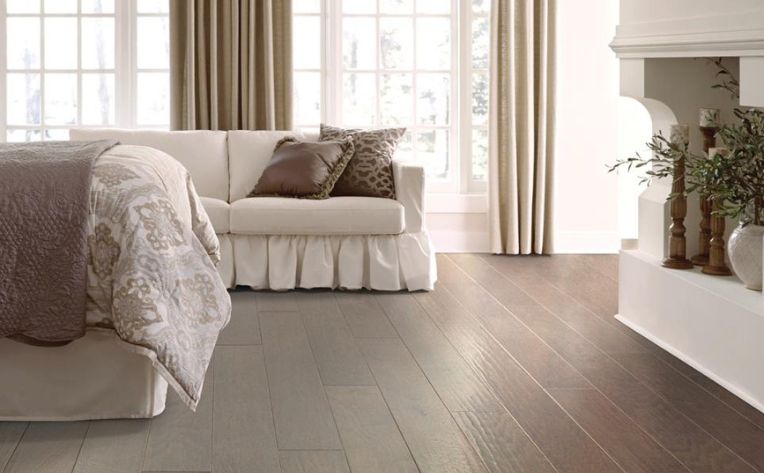 Bostwick by Floorcraft in True Brown
If you're looking for an easy way to create a comfortable and inviting atmosphere in your home, incorporating a rich, chocolate-hued hardwood like Bostwick by Floorcraft in True Brown will do just the trick. Warmth and comfort go hand-in-hand, making this hardwood perfect for adding that element of luxurious comfort that you're looking for.
3. Wood-Look Luxury Vinyl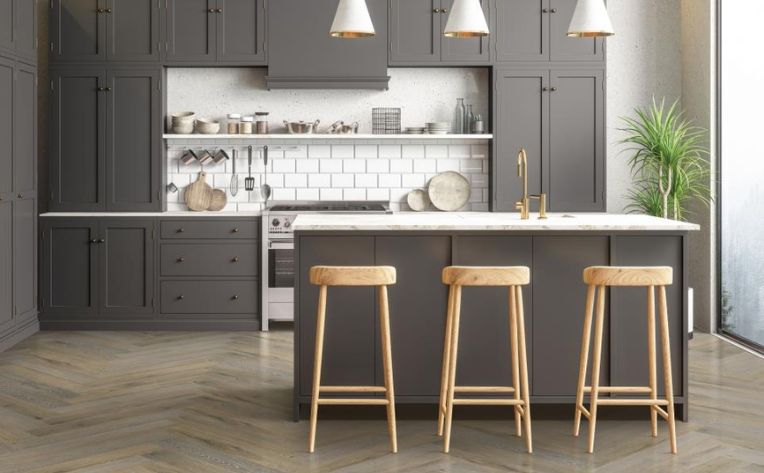 Timber Plus Herringbone by Downs H20 in Charleston Herringbone
Believe it or not, you don't have to sacrifice style for comfort when transforming your home into a refuge for luxurious comfort. With Timber Plus Herringbone by Downs H20 in Charleston Herringbone, you get the ultra-realistic, comforting look of wood but with a softer flooring underfoot. Luxury vinyl is known for being a warmer flooring choice when compared to tile or hardwood floors. To elevate your space into a modem of luxe and comfort, find a herringbone product that's stylish pattern is certain to impress.
4. Rustic Laminate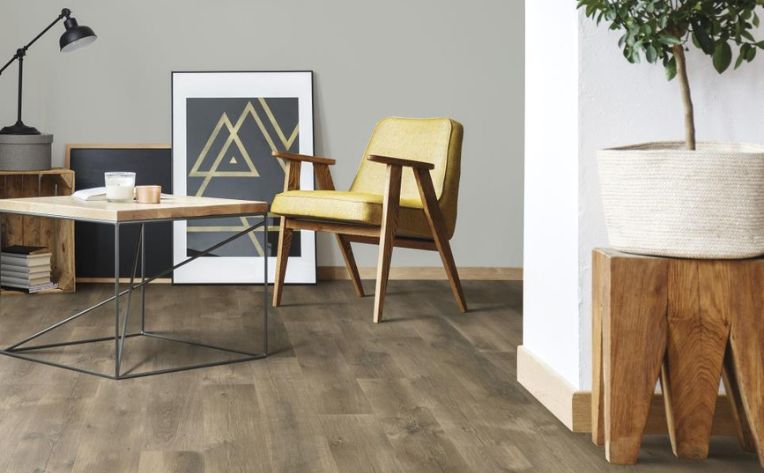 Mountain Lane Oak by Floorcraft Performance Flooring in Shoreline
Mountain Lane Oak by Floorcraft Performance Flooring in Shoreline makes for a perfectly warm and rustic addition to your family household. The wood-toned hue of this flooring features the distinctive look of weathered, aged oak that instantly adds a source of warmth to any room. As you well know, part of being comfortable in your home is knowing that your floors can handle your mess. Thankfully, this laminate product is waterproof, kid-proof, and pet-proof so it can easily handle your family's active lifestyle. While this laminate flooring complements a range of decors, it's guaranteed to only add cozy, inviting vibes to your home.
It can be a daunting task to find the right flooring for your needs. Fortunately, it doesn't have to be. With the help of professionals at your local Flooring America, you can receive expert flooring advice that makes the process stress-free. For more of this year's top flooring trends and products, be sure to check out our 2022 Style Watch list.
Continue Reading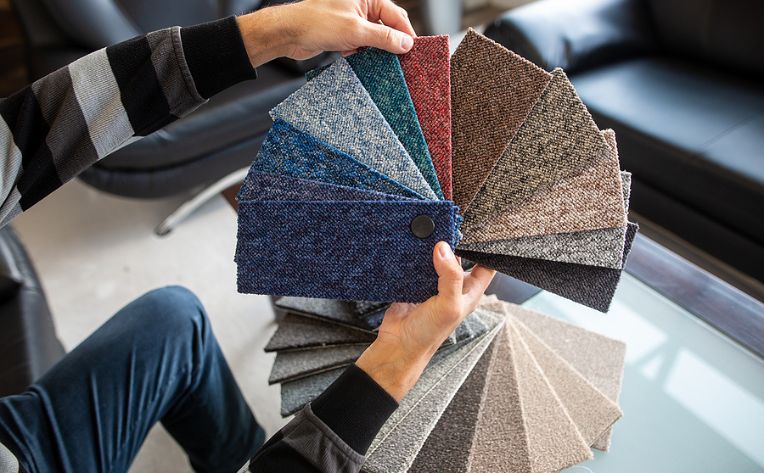 Sep 15, 2022
After a long day at work, there is no better feeling than slipping your socks and shoes off and striding onto cloud-like, comfortable carpeting. Not all carpets are created equally, though, and everyone has their own personal definition of what makes a perfect carpet. So, let's explore some of the important distinctions between carpets by focusing on the five main components of a carpet.
Density is a factor in determining whether a carpet is of good quality. The higher the density, the higher the quality will be of the carpet, as it will be thicker and softer. This is often confused with face weight, which refers to how yarn is used in an individual carpet pile. Face weight is an important factor in a carpet's density. In fact, the equation to calculate the density of a carpet is the face weight multiplied by 36, divided by the carpet pile height. There is an ideal density for each fiber type, though 3,000 and higher is optimal. If it is an area with high foot traffic, we recommend 5,000.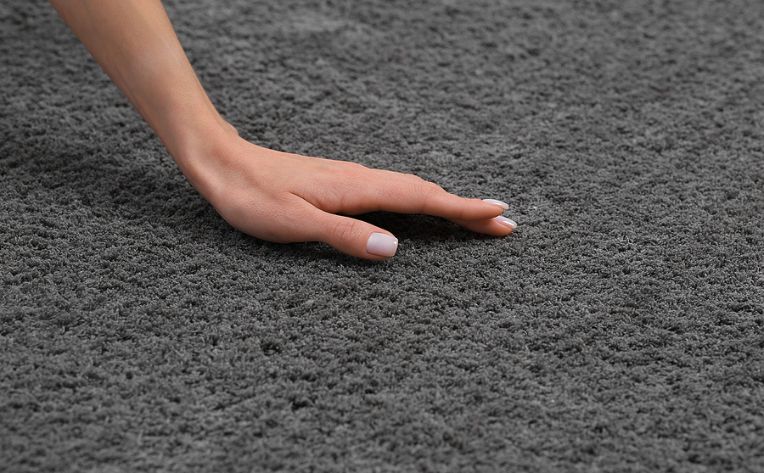 Fiber refers to the material that the carpet is made from. There are four main types of fiber: nylon, polyester, olefin, and wool. Nylon is stain-resistant and can withstand high foot traffic, making it an ideal choice for families. Polyester is a hypoallergenic fiber that can hold vibrant colors well. Olefin is found typically in commercial spaces and is stain- and moisture-resistant. Wool is a natural fiber and is revered for its innate beauty. All fibers have their own pros and cons. Consider not only the look and feel you want with your carpet but also what room you're installing in and how your floors will be used.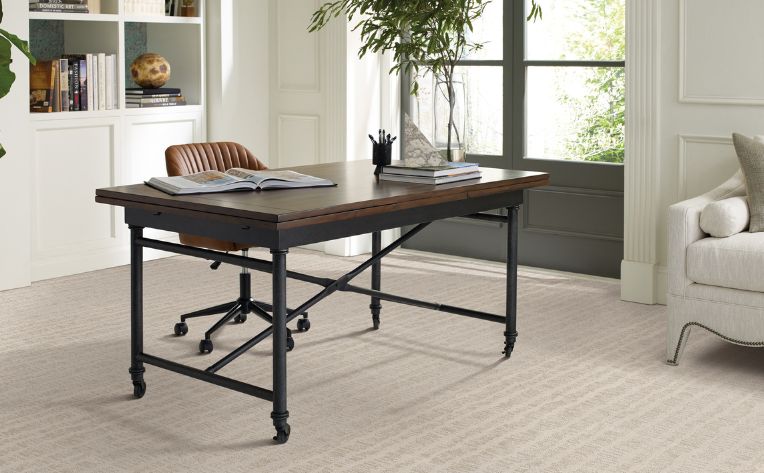 Pad, also known as a carpet cushion, is the layer of material that goes in between your carpet and your floors. It helps protect your carpeting, makes it feel softer, and acts as a sound dampener. While carpeting can naturally help drown out unwanted sound, the padding adds an extra layer and extra strength. The pad itself is made from either rubber, foam, or a different sponge-like material. In case of flooding, the extra padding can help protect the floors under the carpet from additional damage. As you may expect, the thicker the padding, the more expensive it becomes. Check your carpet pad's warranty and consult with a flooring expert to find the best carpet pad for your floors.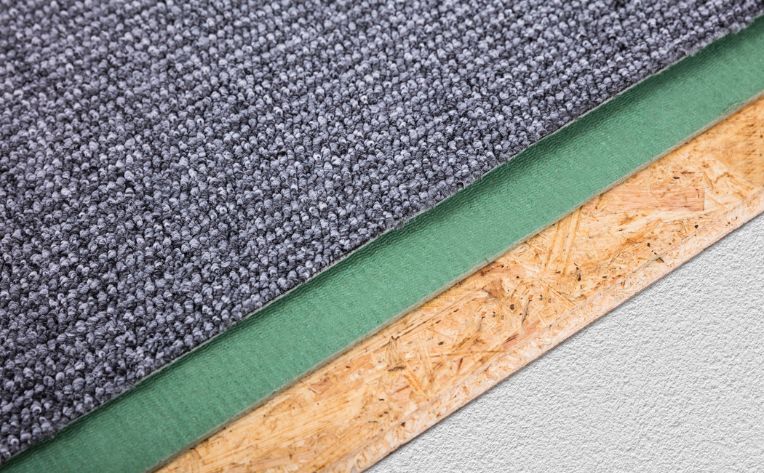 Pile is the loop in the carpet. Low pile carpets have short, tight loops, whereas high pile carpets have tall, loose loops. Lower pile looks and feels flat and is ideal for high traffic areas. The lower the pile, the smoother the carpet will feel. Higher pile looks and feels fluffier and lusher, but dirt and dust are more likely to get caught in it and visibly stand out. There is also medium pile, which strikes a nice balance between comfort and convenience when it comes to cleaning.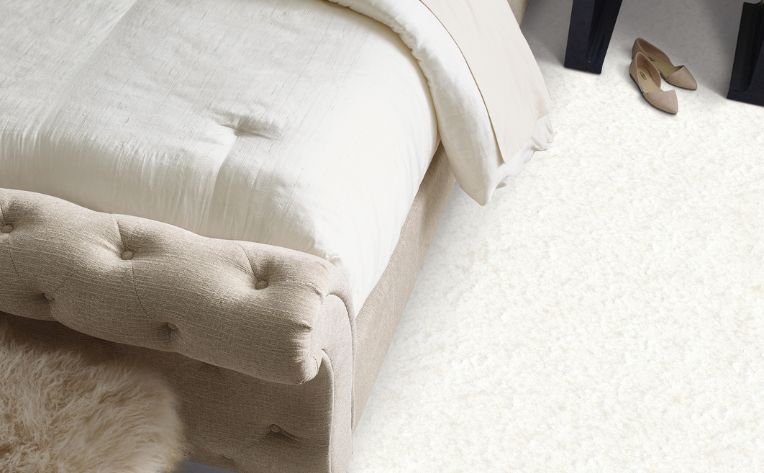 Color is also an important differentiator; however, that is something only you can decide on. If you are looking for some inspiration on what direction to take for the color of your carpet, we recommend reading and reviewing Best Colors by Flooring Type: Carpet for more carpet color inspiration and Bringing Your Living Room to Life with Carpet if you are deciding on a carpet color for your living room or more neutral spaces.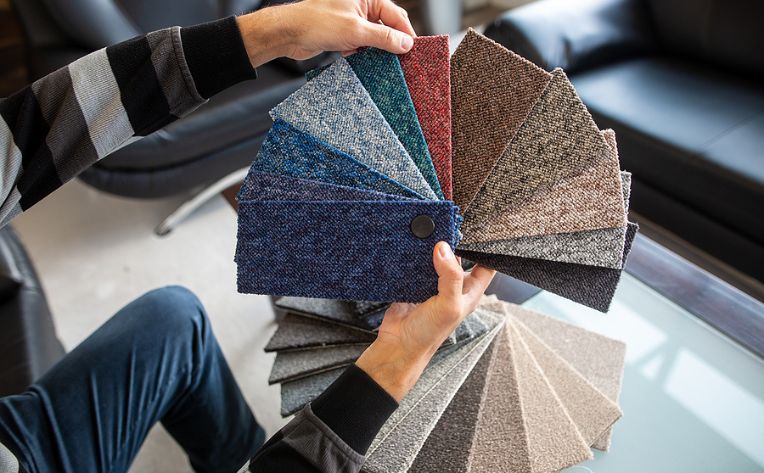 Now with this information in mind, you can confidently decide what kind of carpet products will best fit your space. If you need any additional help understanding these distinctions or learning more about design differences in carpet products, find your local Flooring America to get connected with a qualified expert for advice.
Continue Reading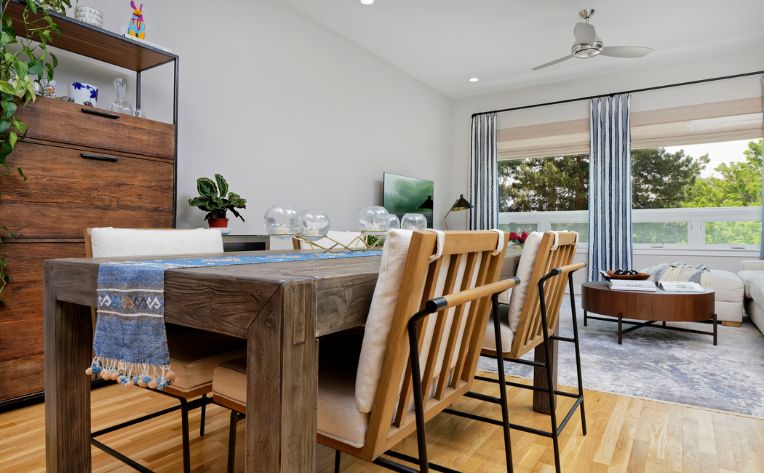 Sep 08, 2022
A Townhome Renovation

Design by MARGARITA BRAVO | Photography by ZACH CORNWELL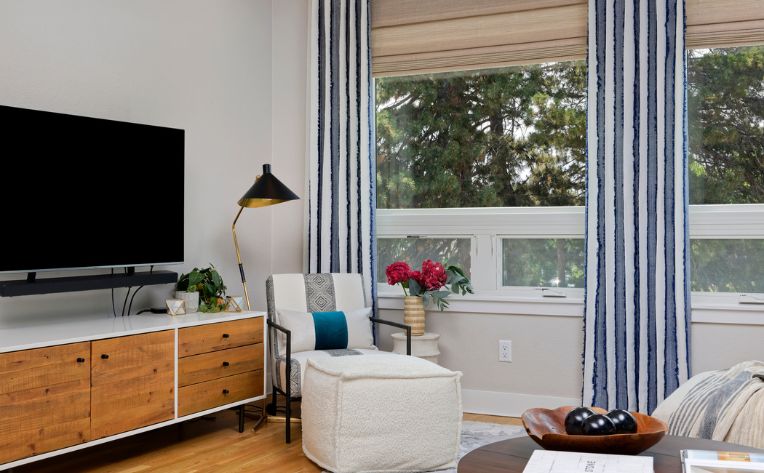 Q: Tell us a little bit about your client's needs for this townhome renovation.

A: Our client was a first-time homeowner for this place, and as such, she wanted to bring her personality into it. To do this, we needed to get to know our client—her likes, her passions, and so on. It turns out that our client loves the outdoors, nature, and traveling. Our design incorporated these aspects of her life.

Q: This is a small space. What are your initial thoughts when approaching a design that has a smaller square footage?

A: We are laser focused on functionality. We need to understand what is a priority for the client and what is not. Prior to designing the space, we try to gain a good understanding of the place's workflow. Once that is done, we then add the aesthetic elements to the design. To achieve this level of knowledge, we ask a lot of questions about how the client functions in her space.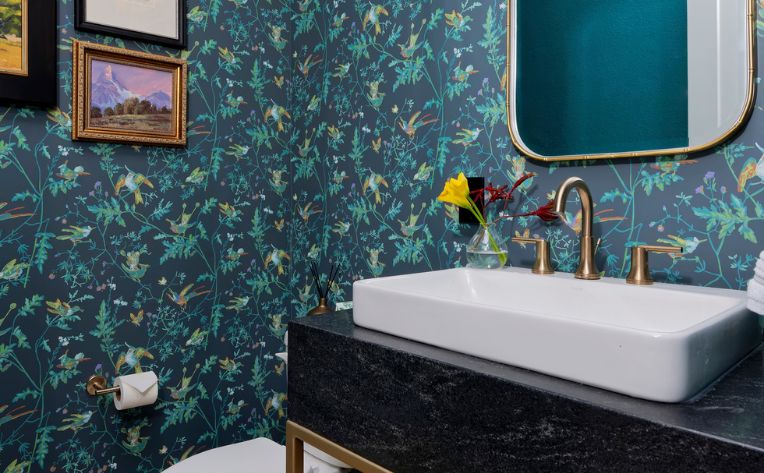 Q: Wallpaper is really hot right now, and we love the way you've used it in the powder room. Oftentimes, decorating with wallpaper can be tricky. How do you approach designing with wallpaper, especially in a small room such as the bathroom?

A: We believe the powder bathroom is a perfect space to design with wallpapers because oftentimes the powder bath on its own can be a great place to make a bold design statement. In general, wallpapers offer an incredible option to complement design features. They can also be the focal point of a room. Wallpapers are a great tool in your designer's toolbox.

Q: Color is used liberally throughout the rooms in this space. How do you feel that color plays an important factor in interior design, and what colors do you recommend using together?

A: Our design approach to a space always becomes personal because we love to understand our client's vision and how they see themselves in their space long after the design is done. In our mind, colors reflect personality, vision, and desires from a client standpoint. Colors are a function of what the client wants, and they may vary from combinations of orange and greens to neutral tones to bolder shades. This client is super nice, incredibly polite, and fun. She loves nature activities like hiking, canoeing, and being in open spaces. Our client has also traveled a lot to South America to countries like Peru and Chile. The colors chosen for this design reflect all this and include natural, earthy tones with pop of colors here and there. We love how it turned out, but more importantly, we love that the client is so happy with her place.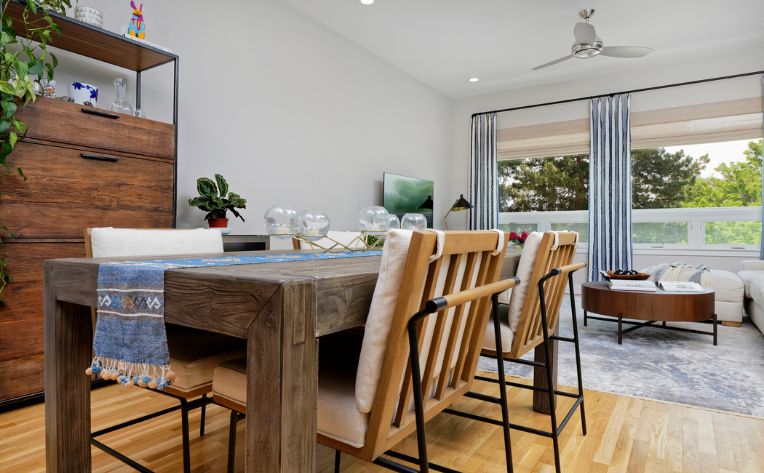 Q: The honey-hued hardwood floors in this design are beautiful and have a charming, old-world appeal. Were these original to the architecture of the place?

A: They are lovely indeed, and they were original to the architecture of the place, which facilitated the blend of colors and elements of our interior design.

Q: There are many wooden objects tied into this space, from the light hardwood floors and airy dining chairs to the rich espresso dining table and dark wooden bookcase—but they all form a cohesively beautiful space. What are your top tips for successfully blending natural elements together?

A: These design processes are very personal. When there is a direct connection with the client and the client is not afraid of using patterns, combining colors, and mixing natural elements, then creative juices flow and the magic happens. A top tip for designs like these is to look for the flow of lines along the combination of different components to see how they mix and match with each other.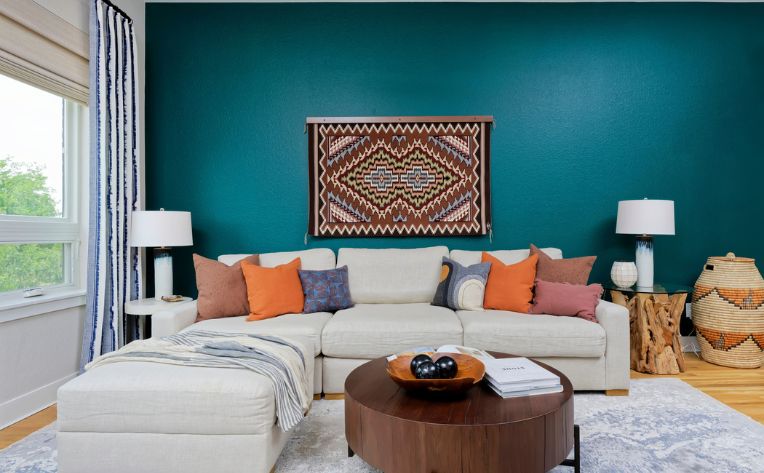 Q: There are some really unique pieces in this space, including the wall tapestry and the woven basket in the living room. How do you draw design inspiration from artwork and one-of-a-kind artifacts?

A: Our client is well traveled, especially to Peru, Chile, and other places in South America. As such, she had a rich portfolio of artwork that needed to be incorporated into the design. Our colors and overall material selection considered these pieces of art right from the start. We too love to travel. Traveling does many things for your soul, one of which is to give you a different perspective on life. It also makes for a good source of inspiration.

Q: We love the entryway table setup. What are some top design tips for making a good first impression with your foyer?

A: We believe mixing and matching different materials, elements, and colors can offer the opportunity to create an area or design that will stand out, particularly for spaces where you want to make the first impression last longer in a positive manner.

Q: We noticed that there's a lot of different lighting throughout the space, from the overhead fan to the lamps to the tea light candles on the dining room table. How did you approach lighting when it came to this design?

A: Interior design incorporates so many different aspects that are equally important. Lighting cannot be isolated from colors, other materials, artwork, furniture, or wallpaper. We believe lighting can add to the harmony and cohesiveness of a design because it can—and should—highlight certain features of the interior design and the overall personality of the space when required. Our lighting design for this and any other design is based on this approach.
Continue Reading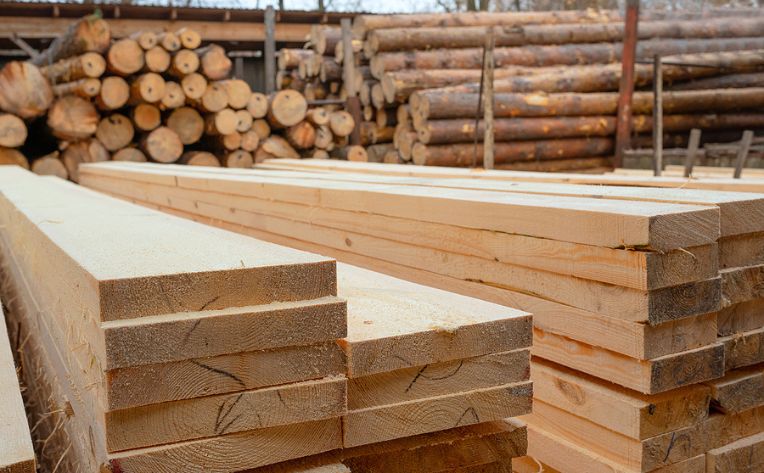 Aug 25, 2022
For the over 400 years, hardwood flooring has graced homes across the world. Starting in France during the Baroque Era and popular among colonists in North America, it has remained a classic, sought-after floor solution due to its timeless style and durable nature. Making hardwood flooring is not as straightforward as just simply chopping down a tree and laying it down. If you've ever examined your hardwood floors and wondered how they got there, wonder no more! Let's break down exactly how hardwood flooring is made.
It is important to note that throughout the years, hardwood has evolved into two main types: solid and engineered. Solid hardwood is made of a thick slab of wood from one singular type of tree. The tree species varies from oak to walnut to maple, etc. Engineered hardwood is made of a thin top layer of hardwood to give off the appearance of classic wood flooring, with a thin layer of plywood underneath. While these two options look almost identical and require the same level of care and cleaning, here are a few important distinctions between solid and engineered hardwood.
Solid hardwood:

Lasts 30 to 100 years
Is more expensive per square foot
Can be sanded up to ten times, depending on warranty
Has thicker planks
Is more difficult to install
Has a larger variety of colors

Engineered hardwood:

Lasts 20 to 40 years
Is less expensive per square foot
Can be sanded from one to three times depending upon the veneer thickness
Has planks that are bigger both in length and width
Is easier to install
Is more water-resistant and, depending on manufacturing, can be waterproof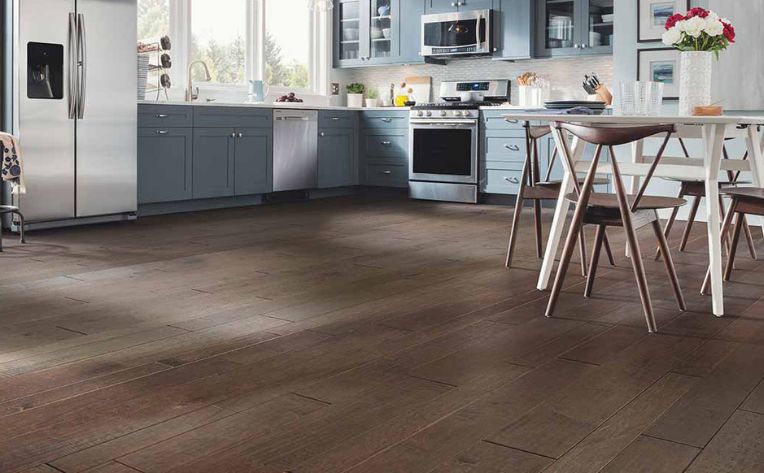 Another important distinction is how these hardwood types are made. Solid hardwood comes from one type of tree and is created through the following process:
After a tree is cut down into logs, it is closely examined for its quality, which is determined by how tight the grain is and how many knots are in it. The tighter the grain and the fewer the knots, the better.
The logs that meet the qualifications of quality hardwood are then converted into planks through one of these three cutting methods:
Flat or plain sawn is the most common and has the most variations compared to the other methods.
The quarter sawn method, as you may expect, cuts the wood into quarters and, from there, cuts the wood into strips.
The rift sawn method is the most expensive method and produces the most durable hardwood floors. Like the quarter sawn method, it cuts the wood into different angles before cutting the wood into strips; however, it is cut from different angles than the method mentioned above.
Regardless of the method chosen, the planks are examined, and whichever ones make the cut (pun intended) are smoothed to remove any saw marks and leveled.
To have the wood fit together edge to edge, tongues and grooves are cut into the edges of the wood planks. From there, the wooden plank may go through a distressing process by hand or machine.
Finally, the hardwood is given a protective finish by either a staining or sealing process, which can occur before or after it is installed.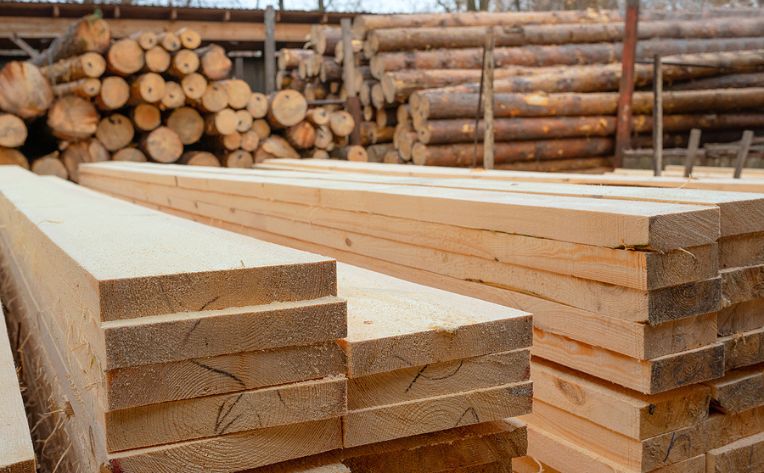 Since engineered hardwood is made up of both a thin layer of hardwood and plywood, two production processes are necessary to develop this flooring option. The thicker both layers are, the more expensive and durable the flooring becomes. Since there are multiple types of engineered hardwood from MDF to HDF to solid core and more, the processes vary from type to type. In this instance, we will be discussing how ply-core engineered hardwood is made:
The plywood underneath the thin hardwood layer is made up of wood piles that are glued together and stacked in the opposite direction to create stability. The final result of the wood that is piled, stacked, and glued is called the core board. At the same time, another process occurs to create the top, visible, thin hardwood layer. There are three different kinds of cutting methods:
Dry-solid sawn is the most expensive method, as it achieves the tightest grain and looks as well as acts the most like solid wood. During this process, wood is slowly dried out with low humidity, which keeps the moisture inside of the wood and, in turn, reduces the risk of the edges of plank curving up (this undesired risk is called cupping).
Rotary-peel occurs when the wood from the log is scraped and pressed flat after the log has been boiled for a long period of time. The grain closely resembles plywood, and the planks developed from this method may face issues with cupping.
Sliced-peel method also boils the log; however, the wood is cut from the end of the log and pressed until a veneer is created.
Once the core board and hardwood layers are both created, they are glued together.
Following that, the edges are cut to create tongue and grooves for a glue-less click-and-lock system to create an edge-to-edge look.
Like solid hardwood, the layer of wood in engineered hardwood flooring can go through an optional distressing process, which is more expensive but achieves the antique aesthetic. It is also given a protective finish like solid hardwood through a staining or sealing process.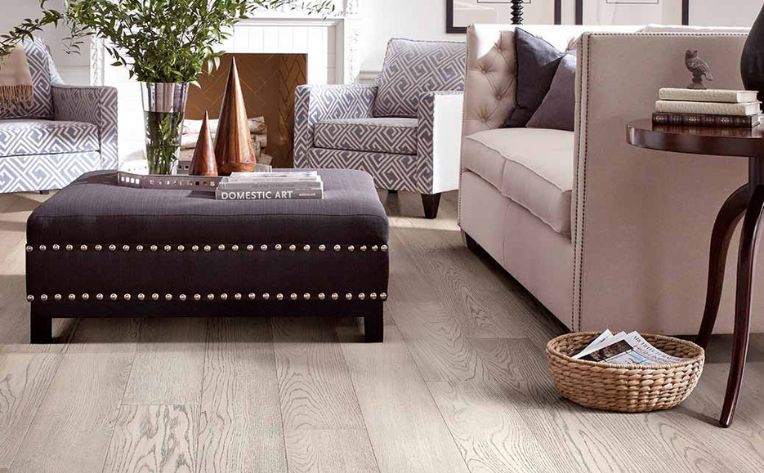 To say the least, the process of creating hardwood has come a long way since the 1600s, and in turn, our flooring today can withstand the test of time not only in its classic look but also in its lifespan. You can read more about how hardwood is made and its different styles or speak to an expert by visiting your local Flooring America.
Continue Reading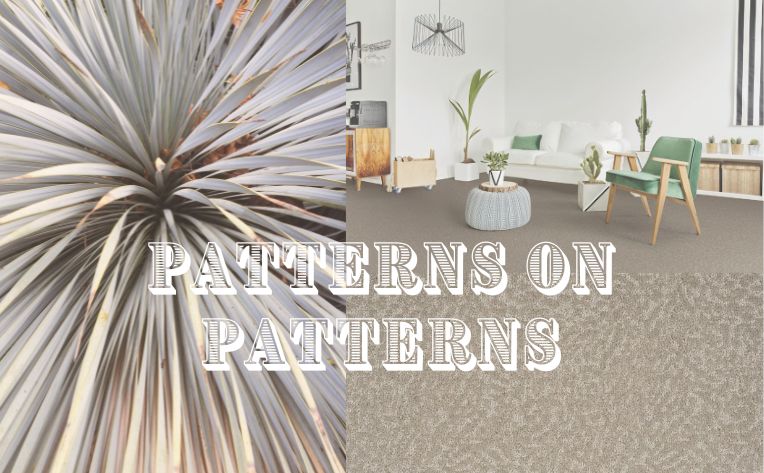 Aug 22, 2022
We are introducing yet another Style to Watch for 2022: Patterns on Patterns. When we talk about patterns as a trending design style, we certainly don't mean gaudy designs or flecked movie theater carpets. In fact, this year's trending patterns lean more towards inconspicuous, but that's not to say they don't elevate your space. Offering fun textures that are visually appealing, patterns tend to add dimension and create a distinct warmth when used in your home design.
Of course, if you're looking to hop on the maximalist trend, feel free to go bold with loud patterns and layered prints. With so much variation, you can easily include patterns that match your style within your home design. To help you dip your toes into the pool of pattern possibilities, we've compiled some of our favorite patterned flooring products and solutions that will work wonders for adding visual dimension to your space.
Subtle & Sleek Carpet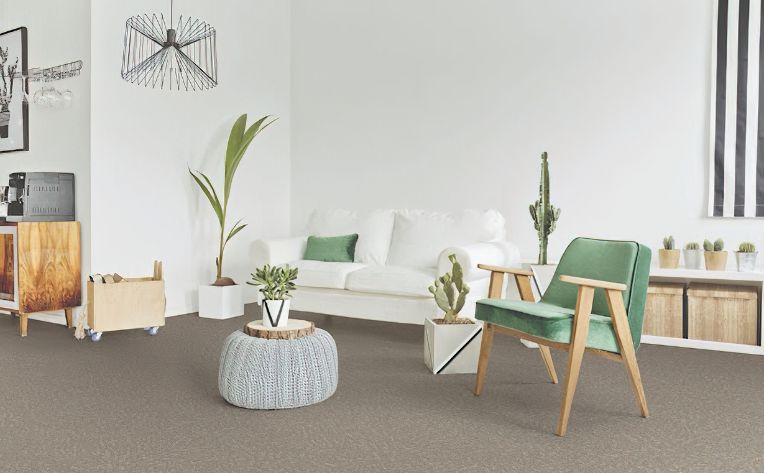 Define Yourself carpet by Design Distinctions in Sugar Sand
One of the easiest ways to incorporate patterns into your home design is utilizing a subtle patterned carpet, such as this Define Yourself carpet from Design Distinctions. When viewing the carpet close up, you'll see the elegant swirls and dual tones creating a stunning pattern, but from far away you'll notice the pattern become less apparent – creating visual interest without overwhelming your space. Since it's such a subtle base, it's perfect for layering other patterns in your space without your design coming across as too busy. And while the Define Yourself carpet is aesthetically perfect for this trending style, it is also a durable, smart choice for busy households, as it is soil and stain resistant and comes in 9 easy-to-coordinate hues.
Bold Mosaic Tile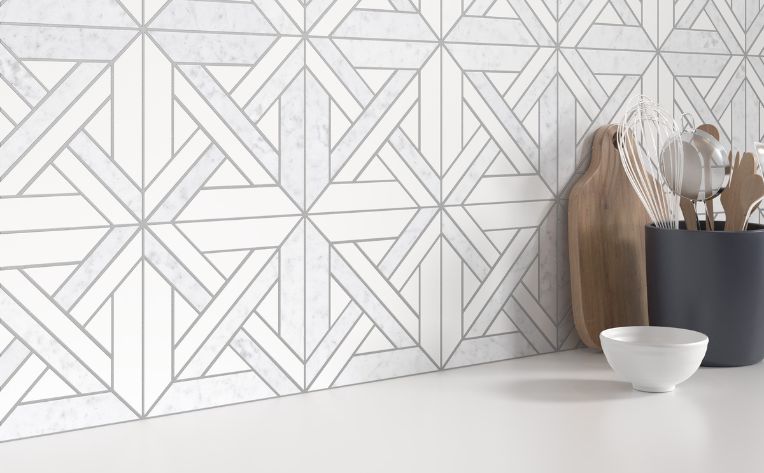 Alluro Silver Castle Polished Mosaic Tile by Emser
If you're more of the bold type and want to include a pattern that reflects that, wall or floor tile is a great choice. Not only do tiles come in many shapes and sizes, but mosaic tile, like this stunning Alluro Silver Castle by Emser Tile, make creating visually dynamic patterns easy. If you're choosing to go with a bolder pattern, doing so in a neutral color palette, like combinations of beige, white and grey, helps to keep your layered patterns from appearing visually overwhelming. Of course, the most important thing in your home design is that it fits your personal taste, so if your style is bold and bright, don't be afraid to get colorful and creative with your tile.
Stunning & Simple Hardwood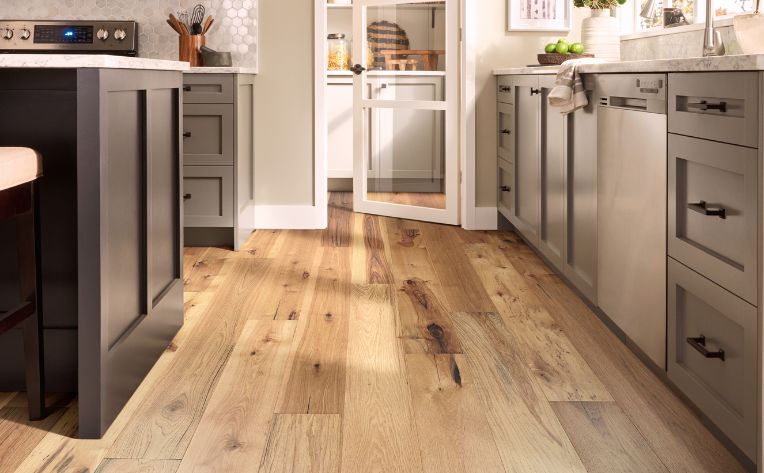 Lanes Prairie Hickory in Court by Aquadura H2O
If you're more on the traditional side of things, but still want to bring the Patterns on Patterns style into your home with subtlety, hardwood flooring, like this Lanes Prairie Hickory by Aquadura H2O, is the perfect choice. This hardwood comes in varying shades of the same tone and uses wide planks to showcase a more obvious pattern. To lean into the Patterns on Patterns trend, choosing a floor that varies in both color and in markings on each hardwood plank will be your best bet, as it makes the subtle pattern offer more visual interest. As if that wasn't enough, this engineered hardwood was created specifically for enhanced stability in high-moisture environments, so you can use it in any room in your home.
Visually Dynamic Vinyl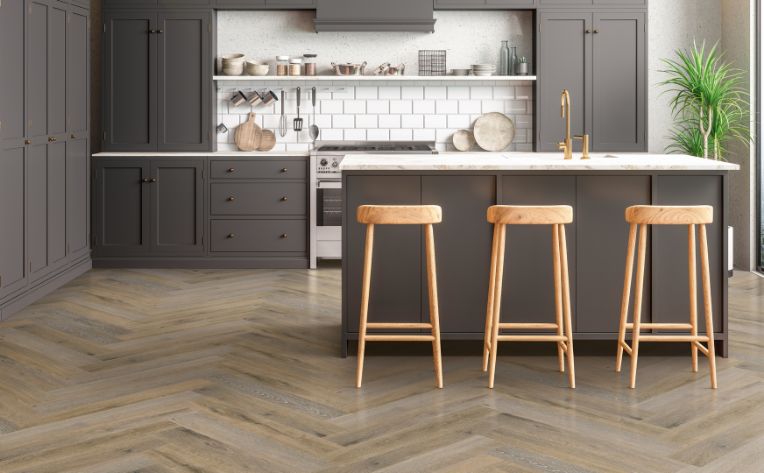 Timber Plus Herringbone by Downs H2O in Charleston Herringbone
If you love the look of hardwood but want something a little more durable and obviously patterned, this Timber Plus Herringbone luxury vinyl flooring by Downs H2O is a great choice. With the modern, elegant herringbone pattern, you create a dynamic floor that compliments your space without straying too far from the look of traditional wood floors. The ultra-realistic wood-toned flooring comes in 3 different shades and is waterproof, as well as scratch and scuff resistant, making it perfect for any space you have in mind.
With so many options to choose from, it can be overwhelming to decide which flooring solution will work the best for your space and Patterns on Patterns design. Of course, we are more than happy to help. Consult the professionals at your local Flooring America for expert flooring advice, and check out our 2022 Style Watch list to read about this year's other top flooring trends and products.
Continue Reading